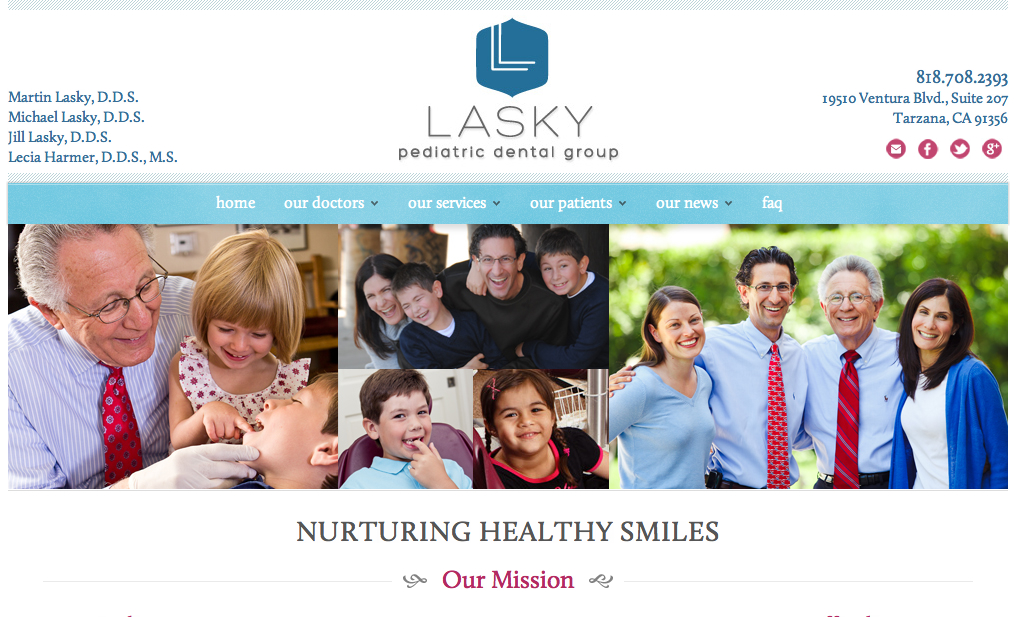 The Client: Lasky Pediatric Dental Group, offers the highest standard of pediatric dental care serving Studio City, Sherman Oaks, Encino, Tarzana and Woodland Hills. As a family practice, they are dedicated to treating their patients like extended family and offering them excellent pediatric dental care.
The Task: Lasky Pediatric Dental wanted to establish a strong web presence to keep their current patients in touch and informed while casting a wider net for new potential patients. They wanted an inviting and sophisticated website to communicate that they are a family practice ready to serve the patients and their families.
The Work: Counterintuity designed a new logo for the client and performed all website copywriting, social media customization, website design and development, mobile site design and development, and SEO.
Results Achieved: The client was thrilled with their new resourceful and professional website and appreciated how quickly it attracted new potential patients. Our SEO work got them on first page of Google search for nine important keywords a few weeks after the site launched.
We'll leave you with these kind words from Jill Lasky, D.D.S. at Lasky Pediatric Dental Group: "Despite being a 40-year-old established pediatric dental practice, Lasky Pediatric Dental Group did not exist before teaming up with Counterintuity. Not only did they create a visually beautiful and inviting "lifestyle" website for us, they more importantly created our online voice, message and branding. In a relatively short amount of time, the creative team at Counterintuity listened to the style of the messages we use in our daily practice and made them come to life via logo and website design, website copy, and social media presence. They were there for us 110% of the time: accessible, knowledgeable and professional. We look forward to continuing to work with them as our online needs evolve."