Recently, we've generated more than Nine Million Dollars in leads, and a whole bunch of sales, for many of our clients. Here are just four examples of how we harnessed the power of digital marketing and advertising to do that.
Who They Are:
With over 40 years of service in Southern California, the lawyers of Brown & Goodkin work tirelessly on behalf of postal workers, secret service agents and other federal employees in their time of need.
What We Did:
By creating a new, responsive website and optimizing the firm's existing Google advertising campaigns, we were able to streamline their messaging and generate an increase of leads across the country. Our strategic approach to the campaign has also led to greater efficiency in terms of geographic targeting.
Who They Are:
After appearing on ABC's Shark Tank in 2012, Sabin Lomac and Jim Tselikis became over-night foodie sensations. Their company's unique take on fresh seafood and classic Northeastern casual cuisine has evolved their business from simply a great idea to a national fleet of high-end trucks, a brick and mortar location in West Hollywood, and a growing online business.
What We Did:
We created CML's first ever online advertising campaign which netted 148 sales in the initial phase of operation. The program was multi-platform and included numerous messaging and creative tests that promoted, and increased sales both online and offline.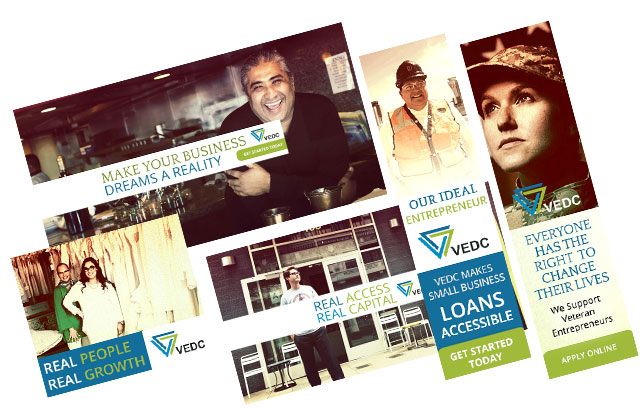 Who They Are:
Formerly known as the Valley Economic Development Center, this storied non-profit helps small businesses across the nation, many of them helmed by women or minorities, connected with lenders interested in helping them grow.
What We Did:
With custom creative, interactive ads and landing pages, we generated hundreds of small-business loan leads in five target markets across the United States. Total value of these loan applications exceeded $9M, greatly beating the client's goals. Even more importantly, seven figures of completed loan deals helped emerging businesses succeed and grow.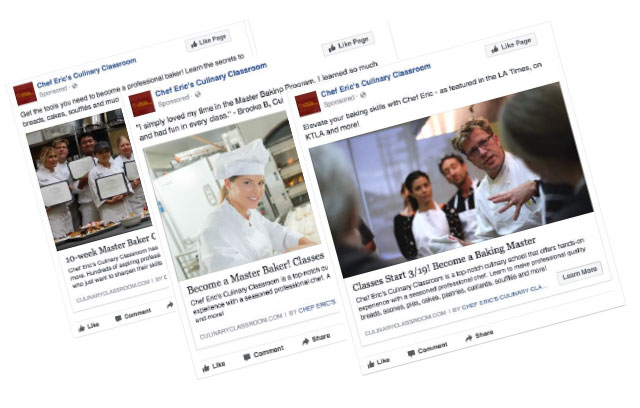 Who They Are:
Chef Eric Jacques Crowley is a renowned master chef whose Culinary Classroom has shaped the careers of many professional chefs – while also sharing cooking classes with enlightened amateurs.
What We Did:
Within just two weeks, we whipped up and served a selection of ads that sold out Chef Eric's multi-week cooking and baking courses in West Los Angeles. Our ads focused on the ideal prospect for each course, ranging in cost from $1,500-$2,700, and featured a variety of marketing messages and imagery.
Your business could be next.
We can help you capture leads and make sales too. Whether you're a non-profit organization or a small or medium-sized business, we're here to listen and learn – and then put in action a plan that helps your business grow.