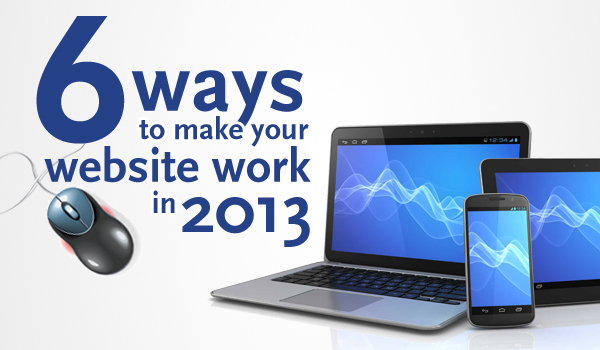 Trends change with the times, and web design is no exception. Here's what we think will be important in 2013 to keep your website (and business) up to date.
1. RESPONSIVE DESIGN
The majority of Internet traffic is already from mobile devices. In 2013, responsive design—enabling interaction from tablets and smartphones as well as desktop computers—will be crucial.
2. SOCIAL MEDIA BADGES
In 2013, it'll be more important than ever to add social media badges to your website. Why? To build brand loyalty between your customers and you. And be sure to update to the current badge or logo, so no one thinks you're behind the times. (Ahem, Twitter.)
3. LARGE TYPE
Why? Because it's easier to read and more visually appealing. Not to mention that larger type lends itself to keeping your messaging concise and action oriented.
4. FIXED NAVIGATION
What's fixed navigation? It's a design feature that keeps your navigation bar—links to the other pages and areas of the site—in a fixed position as you scroll around the site. This is a must for sites with heavy scrolling content because it helps people find their way around. In the age of the iPad, this will be more important than ever.
5. BIG PHOTOS
Humans are visual creatures—our brains are wired to respond to images. Expect more of that in 2013: quick visual takeaways that carry an emotional wallop.
6. MORE VIDEO
Now that everybody knows online video keeps people on a website 50% longer, expect to see even more of it. Given how easy it is to produce high-quality, low-cost video, we anticipate that companies of all size will be putting a lot more on their sites.
Ready to get with the times? Email us so we can help.