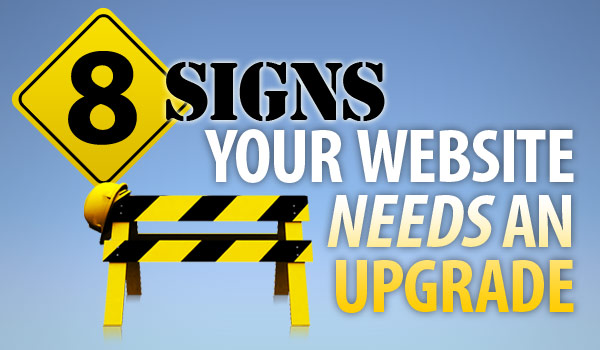 The Web is constantly growing and changing—which means it's important to keep current. These tips will help you decide if you're overdue for an upgrade.
1. Change your resolution
If your site was created for an 800 x 600 resolution or smaller, it's definitely time for a change. The most popular screen resolution on the web these days is 1366 × 768 and you'd be amazed at the difference it makes.
2. Add striking visuals
Gone are the days of text graphics and flashing GIFs, so if you spot any of those elements in your site, it's time to rethink your visual strategy. Good imagery is essential. Aside from being an eyesore, text graphics depress your SEO and are likely to increase your bounce rate.
3. Promote your social media
What better Web real estate to promote your social media efforts than your own website? Incorporate your social marketing with buttons, feeds, badges—the possibilities are endless!
4. Monitor your SEO
If you've incorporated Search Engine Optimization into your current site, then you're already paying attention to what's important. The tricky part is that SEO best practices are constantly changing, making it essential to monitor your results and revise your strategy accordingly. SEO can often be a relatively quick fix to Web traffic slumps, so what are you waiting for?
5. Make it mobile
The future is here and it's mobile—but is your site compatible with these devices? The sooner you make your site mobile friendly, the faster your visitors will have your content at the tips of their fingers. If you have to choose one upgrade for your site—it's this one.
6. Update your navigation
The goal of your site is to capture your audience and provide them with the information they need to close the deal. Efficient navigation that encourages speed is a must. Make it easy for users to search your site and find what they need quickly. Site maps are beyond helpful, and also improve your search ranking.

Here are two more bonus tips just for our blog readers!
7.  Keep it simple
Your website is one of the most important pieces of Web realty you have to market yourself, so it better look good. Steer clear of using too many fonts or picking distracting ones that are hard to read. Decide on an attractive color palette and stick to it—less is definitely more.
8. Create video content
Video content is one of the most effective ways to keep people on your site. Consider making your next blog post a quick video—maybe something that lays out what you do and why people should care. And budget shouldn't matter. Video can be effective whether it's done guerilla style or professionally.