Q: Which is more important: a website's aesthetics or its functionality?
A: BOTH! The two concepts are inextricably connected on numerous levels.
A few months ago, Hotel Council of San Francisco asked us for a transformative site overhaul and their expectations were high. Their new website had to demonstrate the organization's significant influence in the region with a stunning-yet-user-friendly web portal.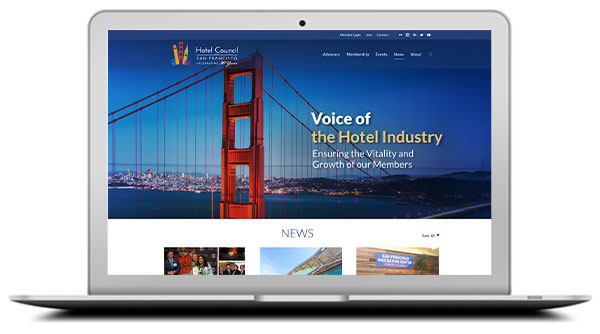 Here's a peek into what we delivered:
EXCLUSIVE, EXCLUSIVE, EXCLUSIVE
We developed a custom, secure membership platform where registration, event sign-up, and payment can all be managed in one easy place.
Time savings for staff: Not only does this process look great, the improved functionality serves as an immediate benefit to members while reducing the Council staff time spent on menial tasks.
HOMEPAGE, HOME RUN
Three second rule – Hotel Council's site passes the 3 second rule: You've got about three seconds to engage a website visitor before they lose interest and wander off. Our team listened, and delivered a design to match the timeless beauty of San Francisco.
Bold wins - With that immediacy in mind, our design team armed this page with bold colors, clear navigation, and a clear value statement, helping guide visitors to their ideal location.
PRO TIP: Take a look at your homepage. Can you tell EXACTLY what your company does in under :03? Now try it with someone who doesn't work with you. The results may shock you.
Does your site need a functional or aesthetic upgrade? Contact us today to learn more.